The Lion Awakes
Daily News, Culture & Current Affairs about China
Graeme has been using ChinesePod since 2007
"I highly recommend ChinesePod, I haven't found any Online teaching programmes that come close."
People's Daily
Political system included into China's 'core interests'

The white paper on "China's Peaceful Development" released by the Chinese government on Sept. 6 has reset the scope of China's core interests, with "China's political system established by the Constitution and its overall social stability" and "the basic safeguards for ensuring sustainable economic and social development" incorporated into China's core interests for the first time. The revision of the scope is the practical conclusion of China's core interests.
No date for fully convertible yuan

The central bank chief yesterday poured cold water on talk that China could make the yuan fully convertible by as soon as 2015.

People's Bank of China Governor Zhou Xiaochuan said the nation's economic plan for 2011-2015 included the goal of scrapping restrictions that mean the yuan cannot be freely traded for purposes other than trade and investment.

But, speaking to reporters in London, Zhou added: "Up to now, the plan does not define a clear timetable for full convertibility."

See Kaixin's - Yuan Revaluation & Internationalisation
Cross-border RMB settlement developing rapidly

The scale of cross-boarder RMB trade settlement is expanding rapidly in Africa, Southeast Asia and Latin America during recent years. Local financial institutions have played a critical role in promoting RMB internationalization and the application of the RMB in these regions.
China upbeat about Europe debt crisis

LONDON - China has confidence in both the European economy and the euro and supports the euro zone's efforts to tackle its debt crisis, Vice-Premier Wang Qishan said on Thursday at the Fourth China-UK Economic and Financial Dialogue.
Sino-Africa cooperation ought to be further developed amid uncertain global economy

XIAMEN, Sept. 8 (Xinhua) -- China and Africa need to cooperate with each other and promote common development amid the uncertainty of the world's economic recovery, China's Minister of Commerce Chen Deming said Thursday.

Confronting the complex economic situations of sovereign debt crisis, inflationary pressures and food security problems, nations around the world, especially developing countries, should join to seize opportunities to deal with the challenge and reduce the influence of the potential economic crisis, said Chen at the High-Level Symposium on China-Africa Investment and Cooperation in the southeastern coastal city of Xiamen.
Russia launches Far Eastern gas pipeline

VLADIVOSTOK, Sept. 8 (Xinhua) -- Russia launched its Far Eastern gas pipeline on Thursday at a ceremony attended by Prime Minister Vladimir Putin.

Putin pressed a button, symbolically opening the Sakhalin-Khabarovsk-Vladivostok pipeline on Russky Island in Vladivostok.
China's economic hub to build world's biggest expo center

SHANGHAI, Sept. 8 (Xinhua) -- Shanghai, China's economic center, plans to build a super-sized exhibition center that is likely to become the world's largest, a municipal official said Thursday.


New western colonialism emerges in Libya

Without question, Libya has currently entered the post-Qaddafi era. Qaddafi is still giving speeches through various channels, calling on people to continue the fight and declaring that he will rally soldiers to re-seize Tripoli, but nobody takes his blustering seriously. The armed Libyan rebels have already started the great cause of founding a new country, and the Western countries that helped the Libyan rebels win the war have also started to carve up the cake of Libya under the beautiful cover of helping Libya in its reconstruction. What will Libya actually face in the post-Qaddafi era?

Western countries swore that they would protect the civilians of Libya and let the people of Libya decide their future. But actually, after the United Nations issued a ban on flying, the territorial sky of Libya no longer belonged to the Libyan people.
China revises up 2010 GDP expansion

Shanghai--China revised upwards its 2010 economic growth to 10.4 percent from a previous 10.3 percent because the manufacturing and services industries posted a quicker pace of development, the National Bureau of Statistics said yesterday.

The gross domestic product in the world's second-largest economy expanded to 40.1 trillion yuan (US$ 6.3 trillion) last year, a rise of 322 billion yuan from its previous calculation.

Manufacturing surged 12.4 percent annually, from an earlier 12.2 percent, to 18.8 trillion yuan to post an increase of 110 billion yuan from the previous figure.

See Kaixin's - Economic China
Beijing orders thorough probe into oil spills

China's central government has ordered a thorough investigation into an oil spill from offshore wells at the Bohai Bay operated by U.S. oil giant ConocoPhillips.

The State Council, or cabinet, also said it would restrict the construction of new petrochemical projects along the bay in a bid to protect the environment from the effects of too much industrial development.

"Parties responsible for the spill accident must be made to contain the spill, clean up the mess and substantially alleviate the damages caused by pollution," It said in a statement yesterday.
Contracts worth 130 bln U.S. dollars clinched at first China-Eurasia Expo

URUMQI, Sept. 5 (Xinhua) -- The first China-Eurasia Expo that concluded Monday in Urumqi, capital of northwest China's Xinjiang Uygur Autonomous Region, has clinched trade and technical cooperation contracts worth about 130 billion U.S. dollars, expo organizer said.

Among all contracts, 5.5 billion dollars are clinched between Chinese and foreign companies, while 124 billion dollars are among Chinese companies, the organizer said.

About 50,000 officials and business people from China and about 30 countries, regions and international organizations attended the trade fair, which also attracted an audience of more than 300,000 people.
China Daily
Opening ceremony starts for Shenzhen Universiade - SLIDESHOW

Full moon and reunions

The Autumn Moon rounds up sons and daughters working away who head home during this important festival on the Chinese almanac. Zhou Wenting finds out how these wandering prodigals strengthen the ties that bind with mooncakes and visits to family and friends.
Biden says China makes US more prosperous

WASHINGTON - US Vice President Joe Biden, who made an official visit to China last month, has said that he remains convinced that a successful China can make the United States more prosperous.

"I remain convinced that a successful China can make our country more prosperous, not less," the vice president wrote in The New York Times on Thursday. "As trade and investment bind us together, we have a stake in each other's success."

"We often focus on Chinese exports to America, but last year American companies exported more than 100 billion dollars worth of goods and services to China, supporting hundreds of thousands of jobs here," he noted in his article entitled "China's Rise Isn't Our Demise," trying to assuage concern that Chinese exports are making Americans lose their jobs.

"In fact, our exports to China have been growing much faster than our exports to the rest of the world," Biden added.
China getting more competitive

The Chinese mainland progresses steadily in global competitiveness while the United States continues the decline that began in 2008, according to the latest Global Competitiveness Report 2011-2012 by the World Economic Forum.

Emerging markets and developing economies, particularly in Asia, have seen relatively strong economic growth, attracting increasing financial investment, the report said.

Over the past five years, several economies in Asia and the Pacific region — including the Chinese mainland, Indonesia, Vietnam and Sri Lanka — have made important strides in the Global Competitiveness Index (GCI) rankings.
China sets five-year energy-saving goal

China pledged to reduce energy consumption per unit of GDP by 16 percent in the five years to the end of 2015, the State Council said in a scheme on Sep 7.

In 2009 the country set the goal of slowing greenhouse gas emission increases relative to economic growth by 40-50 percent between 2005 and 2020, and using renewable fuels for 15 percent of its energy, Reuters reported.

In the five years to 2010, China achieved a 19.1 percent decrease in energy consumption per unit of GDP, close to its target of a 20 percent cut.

See Kaixin's - Green China
China to help firms investing abroad

XIAMEN, Fujian - Chinese firms need a more "open and convenient" global investment climate and the government will introduce measures to help companies invest internationally, the country's top commerce official said on Thursday.

The government will launch more measures to aid companies investing overseas and create a win-win situation for both China and other countries, Minister of Commerce Chen Deming said at the International Investment Forum 2011 in Xiamen, Fujian province.

The forum is part of the five-day 15th China International Fair for Investment & Trade that started on Wednesday.
More Chinese ODI urged

XIAMEN, Fujian province - A larger outflow of Chinese overseas direct investment (ODI) could help the global economy regain and sustain its growth momentum, even as uncertainties remain over the strength of the global recovery, said officials from both China and overseas.

"The deeper impact of the global financial crisis has expanded, and new uncertainties about the world economic recovery constantly appear," said Chen Deming, the Chinese minister of commerce, at the opening ceremony of the 15th China International Fair for Investment & Trade (CIFIT) on Wednesday.

"The enhancement of international cooperation and encouragement and support for Chinese ODI would be an effective way of adding vigor to the global economy and help to achieve robust, sustainable and balanced growth," said Chen.

Held in Xiamen, the five-day investment fair has attracted 636 international organizations and 482 high-profile visitors from foreign governments, companies and institutions.
Crisis creating ODI opportunities

Countries 'more receptive' to investment amid global downturn

XIAMEN, Fujian - The global debt crisis presents opportunities for Chinese companies planning to invest overseas amid enticing prospects for outbound direct investment (ODI), the Ministry of Commerce said on Sept 6.
Attendants Huang Tingting (right) and He Jiao share a light-hearted moment on Tuesday ahead of the opening on Wednesday of the 15th China International Fair for Investment & Trade in Xiamen, Fujian province.
Personal income to double in five years

Personal revenue in China is likely to double in the five years to 2015 due to increasing social welfare and rising wages, says the chief economist at Bank of China International, Cao Yuanzheng.

China is stepping into a new stage of development, and domestic consumption should be the main driving force, the financial news website Caijing.com quoted Cao as saying.

The increase in consumption is relatively slow, mainly because of low personal income, he said.
300m trips expected during holiday

Tourist trips during the National Day holiday (Oct 1-7) are expected to total 300 million, a year-on-year increase of 20 percent, Xinhua News Agency cited a a report as saying.

About 58.3 percent of the people polled are willing to travel during the holiday, according to the report jointly issued by China Tourism Academy and the tourism website ctrip.com.

Tourism revenue during the holiday are estimated to hit 145 billion yuan ($22.7 billion), an increase of 25 percent from a year earlier.

See Kaixin's - Mid Autumn Festival Feature
The myth buster

An outsider's look at china's leaders is updated and expanded

The 90th anniversary of the Communist Party of China in July coincided with a spate of writing in the Western press most notably Fareed Zakaria (CNN), and Ian Bremmer (Wall Street Journal) - reiterating that China was unlikely to be the next superpower.

Typically, these writers took a skeptical view of the projections that China might push past America's economic hegemony in the next five years or so, or build the political capacity to assume the position of global leadership.

"China is already an economic and political superpower in the perception of many people," says Robert Lawrence Kuhn, international corporate strategist, media personality and adviser to Chinese companies on capitalist markets for more than 20 years. "In today's world, where media makes news more than reports it, perceptions are realities."

As far as he can see "China will only grow in its relative power". He hastens to add that for China's leaders this growth may turn out to be "more a burden than a blessing".

Kuhn is probably at an advantage over fellow China watchers from the Western media to comment on how Chinese leaders may handle this exponential growth and its inevitable side-effects, having interviewed more than a hundred-odd Chinese officials holding key positions in the government and/or the Party, up, close.
China in vogue

How Country captured the fascination of the world's most powerful fashion player

When American Vogue editor-in-chief Anna Wintour visited China for the first time late last year she was blown away by the energy, creativity and entrepreneurial spirit. Wintour, regularly described as the most powerful individual in the fashion world, wasted no time in dispatching Vogue's top photographer, Mario Testino, to Beijing and Shanghai, in a bid to try and capture the China zeitgeist.

Says Wintour in her editor's letter: "When I returned home, I knew that this country that I'd found so entrancing - I'd never been anywhere that restless and ceaseless in its pursuit of the new - could act as a powerful and compelling backdrop for a September fashion story."
Style guru Anna Wintour wants to encourage more US brands to open more stores in China. "I think American brands are a bit behind coming to China compared to European brands."
Documentary Feature on Anna Wintour (Expires on the 16th of Sept 2011)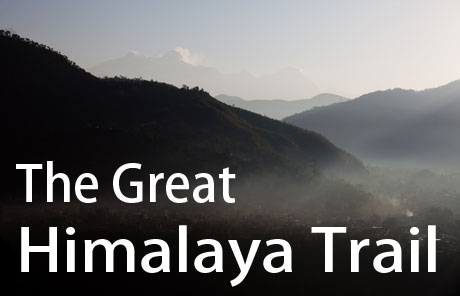 Share your China stories!

The China Daily website is inviting foreign readers to share their China stories with our worldwide audience. Please send your story with your contact information to mychinastory@chinadaily.com.cn. Photos of the author or the story are also welcome.


XinHua News
Dalai Lama – Not so Zen by Maxime Vivas
PARIS, Aug. 20 (Xinhua) — A French writer's book put on sale recently has disclosed another side, including opportunism and tricks, of the Dalai Lama deified by some Western politicians and armchair pundits.
I am very much impressed with China's efforts on climate change: UN Secretary General

CANBERRA, Sept. 9 (Xinhua) -- United Nations (UN) Secretary General, Ban Ki-moon, told Xinhua Friday that he was very much impressed with China's effort on tackling climate change, and welcomed China taking a leadership role in fighting the global challenge.

See Kaixin's - Green China
Chinese premier pledges to improve welfare of rural teachers

BEIJING, Sept. 8 (Xinhua) -- Premier Wen Jiabao promised to spend more resources in rural education and improve teachers' welfare in a statement released from the State Council general office on Thursday.
China pushes for construction of Northeast Asia free trade area

CHANGCHUN, Sept. 7 (Xinhua) -- China is seeking to push forward the establishment of a free trade area among Northeast Asian countries in order to further boost the economic and trade exchanges in the region, a senior political advisor said Wednesday.

"All countries in Northeast Asia should make efforts in building a regional cooperative framework and exploring the construction of a free trade area under the backdrop of global and regional economic integration," said Bai Lichen, vice chairman of the National Committee of the Chinese People's Political Consultative Conference (CPPCC).

Bai made the remarks at the ongoing 7th China Jilin Northeast Asia Investment and Trade Expo in Jilin's capital city Changchun.
China, Vietnam vow to promote all-round exchanges, cooperation

HANOI, Sept. 7 (Xinhua) -- Chinese State Councilor Dai Bingguo said here Wednesday that China would like to advance all-round exchanges and cooperation with Vietnam to benefit the two countries.
China issues white paper on peaceful development

BEIJING, Sept. 6 (Xinhua) -- The Chinese government on Tuesday published a white paper on the country's development, stressing peaceful development is China's strategic choice to realize modernization, make itself strong and prosperous and make more contribution to the progress of human civilization.

The white paper, released by the State Council Information Office, introduces the path, objective and foreign policy of the peaceful development and elaborates on what China's peaceful development means to the rest of the world.

"Situated in the East, China, a country with an ancient civilization and a population of over 1.3 billion, is making big strides in its advance toward modernization. What path of development has China chosen? What will China's development bring to the rest of the world?" it says at the start.
BEIJING, Sept. 6 (Xinhua) -- The Information Office of the State Council, China's cabinet, on Tuesday published a white paper on China's peaceful development.
Following is the full text:
China's Peaceful Development
Information Office of the State Council
The People's Republic of China
September 2011, Beijing
Contents
I. The Path of China's Peaceful Development: What It Is About
II. What China Aims to Achieve by Pursuing Peaceful Development
III. China's Foreign Policies for Pursuing Peaceful Development
IV. China's Path of Peaceful Development Is a Choice Necessitated by History
V. What China's Peaceful Development Means to the Rest of the World
FM press conference on Sept. 1
China's three new types of fighters conduct test flights

The undated photo taken by a netizen shows China's stealth fighter J-20 during a test flight in Chengdu, southwest China's Sichuan Province. Recently, China's three types of advanced fighters, namely J-20, J-10A and FC-1 Xiaolong, conducted frequent test flights over the southwestern city of Chengdu, according to huanqiu.com.


Several foreign leaders to attend China-Eurasia Expo in Urumqi

BEIJING, Aug. 30 (Xinhua) -- Chinese Foreign Ministry spokesman Ma Zhaoxu said here Tuesday that several leaders of foreign countries are to attend the first China-Eurasia Expo in the northwestern Chinese city of Urumqi.

Pakistan President Asif Ali Zardari, Kyrgyz President Roza Otunbayeva, Azerbaijan's Vice Premier Abid Sharifov, and Kazakhstan's Deputy Prime Minister Aset Isekeshev are scheduled to attend the expo, at the invitation of the organizing committee of the expo, Ma said in a press release.

The expo will be held from Aug. 31 to Sept. 5.
Global Times
Public fury deepens over oil drama

COPC, the operator of the Penglai 19-3 oilfield, issued a statement Saturday evening accusing CCTV of making up an interview with an alleged employee of the oil producer in a report aired Friday.

In the report, a CCTV crew revisited the leakage site near platforms B and C with inspectors from the State Oceanic Administration (SOA).

The crew said it saw at least 20 ships cleaning oil at the site, contradicting a previous claim from COPC that the company had finished clearing the area before the August 31 deadline set by the SOA.

Through a wireless radio channel, a man claiming to be a COPC employee working in the area told CCTV that the cleaning work had been delayed due to bad weather.

When asked why the company claimed to have finished the cleaning process before the deadline, the employee replied, "We just lied."
A war of words between ConocoPhillips China (COPC) and China Central Television (CCTV) over the weekend added more drama to the oil spill incident in the Bohai Bay, outraging the public that is demanding COPC actively take responsibility for the crisis.
Aquino begins visit amid strained ties

Philippine President Benigno Aquino arrived in Beijing on Tuesday on a mission to secure $60 billion in economic deals, amid spats between the two sides over the South China Sea issue.

Aquino, in his first state visit to China, will meet with President Hu Jintao, Premier Wen Jiabao and business representatives during his five-day tour, which will also take him to Shanghai and Xiamen.

Most of the president's 300-strong delegation are business leaders.

"The visit hopes to push for more trade, investment. It will also showcase the Philippines as an attractive and profitable business destination," Philippine Foreign Affairs Assistant Secretary Cristina Ortega told reporters on Tuesday.
CCTV - 9
News for Today
China Business Culture Science & Technology Travel
Full CCTV9 Television Coverge in English
New Income Tax Law takes effect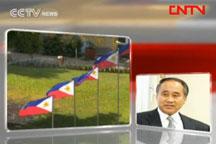 For more on the visit, we are now joined by Professor Zhang Yunling, from the Chinese Academy of Soc...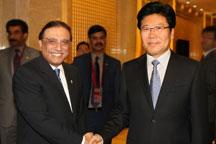 Pakistani President, Asif Ali Zardari, says his country will cooperate more closely with China in fi...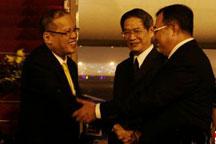 Philippine President, Benigno Aquino, is continuing his first state visit to China since taking offi...
Micro-blogs in China: Growing Pains
2011 China Tourism Equipment Expo wraps up
The 2011
China Tourism Equipment Expo
concluded on Monday in the northern port city of Tianjin. Exhibitors from home and abroad displayed their latest products for travellers. Let's take a look at some of the creative ideas.
Enjoying viewers passing you, chatting with friends and you can also burn your calories at the same time. The group bicycle is just one of some 300 creative tourism products that might make your trip easier or add some fun even after you are back home.
Tibetan relics get makeover

For sixty years, the protection and preservation of Tibetan regional heritage has been at the top of the Chinese government's agenda.
For this twelfth Five-Year plan, the government has launched a 270-million US dollar project aimed at the preservation of more than 60 cultural heritage sites.
More than 4000 cultural heritage sites exist in the Tibetan Autonomous Region of China. To match that colossal number, China has already injected 220-million USD in the past 30 years to preserve the cultural relics as well as the history of the region.
"Heart-to-Heart" Art Troupe performs at Potala Palace
CCTV's "Heart-to-Heart" Art Troupe performed at Potala Palace in Lhasa in the Tibet Autonomous Region on Wednesday. Now, let's join the more than 10,000 people who attended the show.
This performance by the "Heart-to-Heart" Art Troupe was to celebrate the 60th anniversary of the peaceful liberation of the Tibet Autonomous Region, showing the great changes and development that has occurred there.
The number of participating performers and audience members was the most ever since the art troupe began performing there. And many of the performers are local.
See Kaixin's - China & Tibet
Musical Play-Love U, Teresa on Center Stage

"Love U, Teresa" is a Broadway-style musical play commemorates late Taiwan singer Teresa Teng (1953-1995). The musical is about Teng in heaven helping young musician Zhou Mengjun to pursue her dream with her music. The musical uses the simple values of love and loyalty celebrated in Teng's songs. More than 30 of Teng's greatest hits sung by two actresses who play Teng, including "I Only Care About You," "The Long Road of Life" and "The Moon Represents My Heart." The musical made its debut in Hong Kong in 2010 and was well-received. Many people said they could not believe the two singers/actresses looked so much like Teng.
Dialogue (30 Minute Current Affairs Program)
The Wall Street Journal
Economists React: Chinese Inflation Falls from Three-Year High

Chinese inflation fell to 6.2% in August after hitting a three-year high of 6.5% the month before, raising market expectations that China's central bank tightening policy might finally be coming to an end. Analysts weigh in:
For Switzerland, Some Franc Advice From China

Switzerland's central bank is taking a little stick for its controversial intervention in foreign currency markets to halt the runaway rise of the franc. Some of the criticism is coming from unlikely quarters – like China.
China's Rich to Stay Way Ahead of India's

Mukesh Ambani and Li Ka-shing may soon get new company in their wealth club. While the U.S. and western European economies continue to be in the doldrums, Asia, with its steady economic growth, will supply the next set of millionaires (and billionaires), says a new report.
China Could Sow the Seeds of GM Crops Growth

China's adoption of genetically-modified crops will provide the "tipping point" for global attitudes to biotechnology, according to two leading lights of the private and public sector debate on biotechnology in agriculture.
Now This Is Happening: A Bank Funding Crisis in China?

As if we didn't have enough to worry about, there are signs of a bank funding crisis in China.
Who Are the Big Players in China's Private Sector?

China Inc. boasts some of the biggest corporate names in the world today: China Mobile Ltd., PetroChina, Industrial & Commercial Bank of China Ltd, just to name a few. But while the commanding heights of the world's second-largest economy are still firmly in the hands of China's state-owned enterprises, who are the overachievers in the private sector?
A Challenger for LinkedIn in China

Viadeo, a professional networking site operator aiming to compete with LinkedIn by dominating non-English speaking markets, is throwing its weight behind Chinese subsidiary Tianji despite regulatory challenges.
China Isn't Losing Its Manufacturing Competitiveness After All

It's a raging debate in economics circles: Is China's commanding position as the world's low-wage factory floor eroding in the face of rising labor costs and a strengthening currency?

RBS's top China economist Li Cui writes in a research note published Wednesday that "evidence of China losing out is still absent." Her view is that China has been remarkably adaptive to rising labor costs and a strengthening currency....
China's Amazon Eyes $5 Billion U.S. IPO

HONG KONG—China's answer to Amazon.com is targeting a U.S. initial public offering of up to $5 billion next year, despite U.S. investor wariness toward Chinese firms.
Troubling Security Lapses Around Taiwan Presidential Candidates

Until recently Democratic Progressive Party presidential candidate Tsai Ing-wen had managed to stump without incident – no mean feat given the incident-prone nature of Taiwanese politics.
Zhu Remarks Seen as Jab at Wen

BEIJING — China's straight-talking former premier, Zhu Rongji, returned to the political limelight when a popular newspaper published excerpts from a new book of his speeches in which he warns officials not to be "yes men" and calls for urgent reform to address public grievances.
China's Likely Premier-to-Be Does Another Turn on Global Stage


China recently took another step in presenting Li Keqiang, the country's presumptive next premier, as a global statesman, touting a meeting with Pakistani President and close ally Asif Ali Zardari and leaders of other central Asian countries, which China has courted in recent years for their geostrategic positioning as well as abundant energy resources.
'Mooncake Tax' Sours Mid-Autumn Mood in Beijing


Another Mid-Autumn Festival, another mooncake controversy.

The story harvesting hype this year: That employees gifted mooncakes by their employers, as is tradition for the holiday, will have to pay personal income tax on the baked goods — and that the value of the cakes could bump some into a higher taxable-income bracket.
See Kaixin's - The Mooncake Festival
The New York Times
China's Rise Isn't Our Demise
By JOSEPH R. BIDEN JR.

The United States can and will flourish from its competition with China.
'Made in China,' but Still Profiting Americans

A new study finds that a majority of the price consumers pay for goods labeled "Made in China" goes to American businesses, not Chinese ones.
I.H.T. Op-Ed Contributor
Why China Wants a G-3 World
By PARAG KHANNA AND MARK LEONARD

While the world focuses on U.S.-China relations, Europe is increasingly overlooked.
I.H.T. Special Report: Net Worth
Investing in Chinese Currency
By SONIA KOLESNIKOV-JESSOP

While diversifying into the renminbi has its benefits, investors should be aware of the risks involved.
See Kaixin's - Yuan Revaluation & Internationalisation
China Says It Will Tighten Arms Sales Procedures

A Foreign Ministry statement came after the disclosure last week that state-owned arms manufacturers had negotiated arms sales to Col. Muammar el-Qaddafi's government.
An exhibition at the Capital Museum reassesses the paradoxical life of Wan Li, who refused to rule for nearly 30 years, but whose reign saw prosperity and creativity flourish across China.
A photograph of the hall in the Forbidden City where Wan Li held his morning audiences until he suspended them.
Letter from China
Chinese Law Could Make Divorced Women Homeless
By DIDI KIRSTEN TATLOW

In a move that critics say ignores womens' work within the home, a new interpretation of the 1980 Marriage Law now grants sole ownership to the buyer — usually the husband — in cases of divorce.
China's New Cultural Revolution: A Surge in Art Collecting

A growing wealthy class is aggressively pursuing a costly passion for both Western and Asian works.
Militant Band Claims Role In Western China Attacks

An Islamic group said to be tied to Al Qaeda has claimed responsibility in an online video for recent violent attacks that killed dozens in China's western Xinjiang region.
Caixin Online
Central Bank Swerves to Block Deposit Detours

The end is near for off-balance sheet operations that helped bankers sidestep tight monetary policy

The People's Bank of China is tightening deposit reserve requirements in a way that forces bankers to abandon strategies that circumvent monetary policy and promote easy credit.
Nigeria to Introduce Yuan into Forex Reserves

Nigeria'a central bank governor said Nigeria would purchase the yuan through bond sales by China's central bank as well as yuan-denominated trade settlements in oil deals with China

(Beijing) -- Nigeria plans to diversify 5 to 10 percent of its foreign exchange reserves into the yuan and sign a currency swap agreement with China, Nigerian central bank governor Sanusi Lamido Aminu Sanusi said on September 6 in Beijing.
Chongqing Said to be Mulling Extension to Residential Property Tax

The pilot program could be extended to cover homes sold 1.5 times the city's average prices or above, said a tax professor at Central University of Finance and Economics

(Beijing) – Chongqing may extend its home ownership tax to cover more high-end buyers, to make it the strictest property market measures imposed by a municipality on the ever-growing property market.
China's Next Prize: Global Financial Crown
By Andy Xie

But the first step toward coronation, and boosting the world economy, should be an international equities board

The United States didn't plot to supplant Britain as the international financial center. It happened because the United States replaced Britain first as the biggest industrial power and trading nation. Wall Street's importance is a consequence of American industrial success.
The Poisoning of the Nanpan River Basin

Chromium pollution on Pearl River Tributary has killed a number of livestock in Yunnan Province, and continues to contaminate water supplies

In Sanbao Town, the water isn't safe to drink anymore. After a light rain on June 11, Lu Jicai took his sheep into the mountains, located by the Nanpan River Basin. The sheep drank from a pond and soon began bleating. That night, Lu's wife made an inventory. Of the 51 sheep on the mountain that day, 38 had died and 13 were on the verge of death. A veterinarian at the local Animal Husbandry Station determined that the sheep had been poisoned.
Following Ji Xianlin's River West, Then East

Eastern thought offers a valuable perspective of economic and ecological issues, proving that culture ebbs and flows

This past summer holiday, I finally read a 2006 book in Chinese written by the grand, old man of Chinese cultural linguistics, Professor Ji Xianlin (1911-2009). The title of his book crystallizes his view that culture and civilization are like a river that flows east for 30 years and then west for the next 30.
Maurits C. Boas professor of international economics at Harvard University
China's economic dynamism has been propelled by four primary drivers, each of which are set to undergo mild changes which could lead to slower development.
We can examine the five factors mentioned above as accounting for China's extraordinary rate of growth in recent decades....
Not Too Late for Fujian's Tulou Buildings

The 400-year-old Chengqi clan home in Fujian Province's Yongding County is known as the "king of earthen Hakka buildings." Known locally as 'tulou,' it received World Cultural Heritage status from the United Nation's World Heritage Centre in 2008.
Asia Times Online
SUN WUKONG
Moon cakes get an unsavory makeover
By Wu Zhong

In recent years, the centuries-old Chinese tradition of giving moon cakes to friends and relatives to celebrate the Mid-Autumn Festival has been marred by scandals of unscrupulous makers loading up the additives to preserve shelf-life and recycle unsold products. This year, the government is clamping down, but not without the addition of an unsavory tax ingredient into the mix.
Crouching dragon, rising sun
By Yong Kwon


With the completion of its aircraft carrier, China's capacity to further up the ante in disputed East Asian waters has drastically increased. Japan's deep reach into the East China Sea, a capability to contribute to the security of Northeast Asia, and above all an increasingly predominant political role in the region, give Tokyo the power to be a natural counterweight to the growing influence of China.
A criminal missed opportunity in China
By Kent Ewing

After eight years, China's parliament has published 99 draft amendments to the Criminal Procedure Law. Under the guise of protecting the nation against terrorism and other security threats, the proposed changes would enshrine into law human-rights violations that have long been the norm among the police and security forces.
THE ROVING EYE


An extreme traveler, Pepe's nose for news has taken him to all parts of the Pepe Escobar globe. He was in Afghanistan and interviewed the military leader of the anti-Taliban Northern Alliance, Ahmad Shah Masoud, a couple of weeks before his assassination


Subscribe to 'The Lion Awakes'
NEWS FEED
& Receive a Daily Summary of the International News about China
Subscribe in a reader
"The Real China is made by Chinese mothers and grandmothers, from each individual family's hard work," says Xue Xinran
Insights into China's
Society & Culture

China Themes
Insights into China's Society & Culture
Yuan Revaluation & Internationalisation
Kaixin Mini Google Search Engine
Research China
Kaixin has a wealth of archived news & articles on all aspects of China going back to 2008.
You can SEARCH the WWW via Google but there is no QUALITY CONTROL of the articles.
This can waste a lot of time.
You can SEARCH a particular online publication, but then you would miss out on the cross section of publications that Kaixin collates.
PLUS Kaixin has an extensive archive of background information about China.
ALL of the News & Articles in Kaixin are substantive and come from well-respected sources - each Article has a Link back to the original source.
Enter a Search Term in an area that interests you and see what comes up
Kaixin Site Search
Click on a Logo