The Lion Awakes
Daily News, Culture & Current Affairs about China
Graeme has been using ChinesePod since 2007
"I highly recommend ChinesePod, I haven't found any Online teaching programmes that come close."
People's Daily
'China faces a dilemma' in US Treasuries

China has "little choice" but to continue buying US Treasury bonds in the short term despite the potential risk of Washington defaulting on its obligations to foreign bondholders, analysts said on Tuesday.

China, the largest foreign holder of US Treasuries, increased its holdings by $7.3 billion to $1.16 trillion for the second straight month in May, according to the US Treasury Department.
See Kaixin's - Economic China
Chinese president calls for closer economic ties with Iraq

During a meeting with Maliki, Hu hailed the traditional friendship between the two peoples, saying bilateral ties have entered a new stage since the founding of the new Iraqi government.

"China will work with the Iraqi side to steadily promote exchange and cooperation in politics, economic and humanitarian fields, and enhance communication and coordination on international and regional affairs," said Hu at the Great Hall of the People in downtown Beijing.
Chinese premier calls for efforts to save energy, reduce emissions

Premier Wen Jiabao called for intensified efforts to save energy and reduce emissions over the next five years to ease climate change and promote sustainable development.

The country fulfilled most of its binding energy-saving and emission reduction goals set out in the nation's 11th Five-Year Plan period (2006-2010), according to a statement released after a State Council meeting presided over by Wen.

See Kaixin's - Green China
Dalai Lama meeting damages US status as world power

U.S. President Barack Obama recently met with the Dalai Lama at the White House despite strong objections from China. Shortly after the meeting, China expressed its high indignation and determined opposition in a stern formal complaint with the United States.
China's Xi vows to speed up Tibet's development while fighting separatism

Chinese Vice President Xi Jinping on Tuesday vowed to improve people's well-being, maintain social stability in Tibet and fight against separatist activities led by the Dalai group at a rally marking the 60th anniversary of the peaceful liberation of Tibet.

"To speed up development holds the key to resolving all issues in Tibet", he said when addressing the rally in front of the the landmark Potala Palace in Lhasa.
China approves Zhoushan Archipelago New Area

China's State Council, or the Cabinet, has approved a plan to establish the Zhoushan Archipelago New Area in southeastern Zhejiang Province, local authorities said Thursday.

It will be the country's fourth state-level new district after Pudong New Area in Shanghai Municipality, Binhai New Area in Tianjin Municipality and Liangjiang New Area in Chongqing Municipality, Zhejiang provincial governor Lu Zushan said at a press conference.

The New Area, covering all of Zhoushan City with 1,440 square kilometers of land area and 20,800 square kilometers of inland sea, is planned to be built into a pioneer area in leading oceanic economic development as well as an important new growth engine for the Yangtze River Delta economic zones, Lu said.
China-US military trust helps thaw regional chill

By Li Hongmei

These days, Mike Mullen, Chairman of the US Joint Chief of Staff, and his 4-day China visit, have made headlines and attracted the public attention. Many of the Chinese experts deem it is generally a "Good-will PR" trip, to rebuild the mutual trust and pave way for future military exchanges.

As it is, Mullen is allowed an access to military facilities is an important component of the delicate choreography between the two sides as they try to build what they call "strategic trust," while also learning more about each other's capabilities and ways of operating. When Adm. Mullen's Chinese counterpart, Gen. Chen Bingde, Chief of the general staff of the People's Liberation Army, visited the U.S. in May, he was also taken to several U.S. bases.

Gen. Chen Bingde's frankness and the "open and transparent" attitude of the Chinese military will also help the U.S. military, long accustomed to playing a role superb and unchallengeable, remove some, if not all, its undue suspiciousness and fear.
A vision for ruling CPC

By Li Hong

Three events will serve as footnotes for the 90th anniversary of the ruing Communist Party of China: the world's single longest high-speed railroad connecting Beijing and Shanghai goes to operation; top lawmakers approve an amendment to the tax code, giving tax exemptions to low- and middle-income earners but adding tax on the rich; and probably, by coincidence, Premier Wen Jiabao visits Hungary, Britain and Germany, forging a deeper and closer partnership with Europe
China Daily
CPC puts the people first: historian

BEIJING - The Communist Party of China (CPC) will remain confident in its rule of the world's most populous nation despite mounting pressures on social stability, as long as it represents people's interests, a leading historian has said.Li Zhongjie, deputy chief of the Party History Research Center of the CPC Central Committee, disagreed with speculation that the Party is in a dangerous situation, although in his speech on the Party's 90th anniversary, President Hu Jintao issued several warnings to the whole CPC.

Hu told Party members to be aware of the "growing danger of a lack of drive, incompetence, divorce from the people, lack of initiative, and corruption". Such phrases have rarely been heard in Party leaders' speeches.

"The 'four dangers' mentioned in Hu's speech are an alarm bell tolled to compel Party members to be clearheaded during victory and ready for difficulties in times of peace," Li said at a news conference held by the International Communication Office of the CPC Central Committee on Tuesday.
China South City project brings ASEAN benefits

Nanning, the capital of the Guangxi Zhuang autonomous region has plans for a large trade and logistic project to bring prosperity and to increase cooperation with ASEAN countries, with help from the local government.

Additional support for the China South City Nanning (CSC Nanning) project is coming from the China Council for the Promotion of International Trade and the China Chamber of International Commerce.

That is partly because Nanning is growing in popularity, thanks to the China-ASEAN Expo (CAEXPO) and investment promotion activities.
Guangxi Special

Nanning, the capital of the Guangxi Zhuang autonomous region has plans for a large trade and logistic project to bring prosperity and to increase cooperation with ASEAN countries, with help from the local government.
China to expand resource tax reform pilot

China will expand the range of taxable resources to additional natural resources beyond just oil and gas, Shanghai Securities News reported Monday.
Crowding concern for capital city

BEIJING - China's think tanks called on Monday for stricter steps to be taken to control the capital's fast-increasing population and said population pressures are likely to become stronger in the next 20 years.
Shanghai ranked 6th on financial center list

SHANGHAI - A recently released financial index ranks Shanghai as the world's No 6 financial center, two positions behind Hong Kong.

Experts said mature market regulations and more diversified investment channels are necessary to boost the city's competitiveness.
China releases over 1b fish into Yangtze River

BEIJING - A total of 1.3 billion fish were released into the Yangtze River on Tuesday as part of a project that will help to restore fishery resources that were affected by a recent drought, according to the Ministry of Agriculture (MOA).
See Kaixin's - Green China
XinHua News
China ready for further economic cooperation with Italy, Europe

BEIJING, July 19 (Xinhua) -- Vice Premier Li Keqiang said Tuesday China is ready to further enhance economic cooperation with Italy and other European countries while meeting with Italian Minister of Foreign Affairs Franco Frattini.

"China and Europe are important trading partners, and we hope and believe that the European Union will achieve steady economic growth," Li said, adding that China's 12th Five-year Plan for national development will provide new opportunities for bilateral economic and trade cooperation, and China will endeavor in this regard.

Frattini said Italy holds an open attitude toward high-tech cooperation with China.
See Kaixin's - Economic China
China says protection of ancient towns urgent task

BEIJING, July 19 (Xinhua) -- China will open an exhibition at the end of the year that features ancient towns and villages in light of the urgent need to protect the ancient architecture and promote traditional Chinese culture.

The China International Ancient Town Exposition is scheduled to open on Dec. 16 and run till Dec. 18, according to organizers, which include the China Council for the Promotion of National Trade and the China Tourism Association.

The organizers said China has more than 5,000 ancient towns that are at least 1,000 years old, but so far only 180 of them have been fully developed, while most of them need to be protected for their profound cultural heritage.
China approves plan for energy "golden zone"

BEIJING, July 7 (Xinhuanet) – The central government has approved plans for an energy industry "golden zone" linking Shaanxi province and the autonomous regions of Ningxia Hui and Inner Mongolia in northwestern China, said an autonomous region official on Wednesday.

The blueprint for the zone, connecting the energy-rich regions of Yulin city in north Shaanxi province, Ordos in southwestern Inner Mongolia and the Ningdong energy and chemical base in Ningxia Hui autonomous region, was first proposed by Vice-Premier Li Keqiang during an inspection of Ningxia in February 2010.
FM Press Conference 14th of July
Global Times
Hotan on high alert after attack

Updated casualty figures were not available as the investigation continued with the assistance of a working team consisting of officials and analysts from the national counter-terrorism office, sources said.

A group of rioters carrying explosive devices and grenades stormed a police station in Hotan on Monday where they killed an armed policeman, a security guard and two hostages, before armed police shot several of them dead and regained control.

Wang Wenhua, deputy secretary-general of the regional committee of political and legislative affairs of Xinjiang, told the Global Times that the overall security situation was under control.

"Local authorities are committed to resolutely combating and taking precautions against terrorism, and handling incidents in a timely fashion," Wang said.

Officials and analysts dismissed rumors that the assault on the government target was "a reaction to oppression by the authorities."
Prosecuting lawyers

Before he started to investigate his client's case he gave his wife the phone numbers of advocate lawyers, he got his partners to swear they would back him up if needed, and he decided he would video tape all the witness interviews he conducted.

Despite the precautions, Yang's worst fears came true when he and three other lawyers from different law firms in Nanning, Guangxi Zhuang Autonomous Region, were arrested on June 14.

Held for two weeks without charge and forbidden to contact their own legal representation, Yang ended up being the only lawyer charged and he remains in custody.
Deep ambitions

China has been speeding up construction of deep-sea oil drilling platforms and expects to be capable of reaching more energy resources lying under the South China Sea as soon as this fall.

China National Offshore Oil Corporation (CNOOC), the State-owned enterprise in charge of building the country's first deep-sea oil drilling platform, Offshore Oil 981, is now busy testing the platform in the East China Sea and preparing for its maiden voyage to the South China Sea within the year, Beijing-based Oriental Outlook magazine reported.
China Television News & Dialogue (30 Minute Current Affairs Program)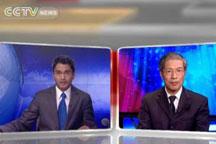 Professor Tao Wenzhao
General relationship between China and ASEAN nations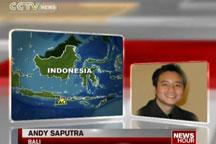 Andy Saputra from Bali
44th ASEAN Ministerial Meeting kicks off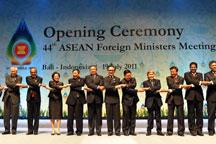 Asia´s largest security forum has begun in the Indonesian resort island of Bali where 10 membe...
Professor Tao Wenzhao
Obama-Dalai meeting´s impact on future Sino-US relations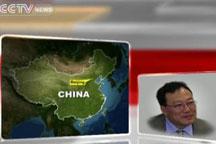 Li Yong
Significance for other trade disputes
Studio discussion: Pork's influences in China's CPI data


For more insight into the control of pork prices and China's CPI, we're now joined in the studio by our current affairs commentator, Professor Liu Baocheng from the University of International Business and Economics.

Q1: Pork is once again in the frame for pushing up China's consumer price index. Some unkind comments on the Internet even refer to the CPI as the "China Pig Index". But are pork prices really that decisive and influential in China's inflation data?

Q2: Now a series of measures have been put in place to stabilize supplies. But as we've just seen in the previous stories, supply is just one part of the picture in rising pork prices. Do you belive the measures are enough to bring down prices in a short time?
China economic growth moderates


The latest economic data released by the National Bureau of Statistics this morning shows China's economic growth is decelerating. But analysts say the moderation is probably a healthy cooling down, rather than a hard landing. CCTV reporter Yin Hang reports from the press conference held in Beijing.

Official figures show China's gross domestic product expanded 9.5 percent year-on-year in the April-to-June period, slowing from 9.7 percent for the first three months this year. GDP for the first half hit more than 20.4 trillion yuan, growing 9.6 percent year-on-year in the first half of this year.
China's economy: From boom to slowdown


Back in January this year, economists debated whether China's economy was becoming over-heated. But six months later, worries about too much growth have all but dissipated. Instead, the latest flurry of economic data suggests the world's second-largest economy is putting its foot on the brakes. Yin Hang breaks down the numbers.

Many financial institutions have given various predictions on the Chinese economy, but one conclusion remains the same...China's economic growth is pacing down.
Dialogue (30 Minute Current Affairs Program) - Water crisis looming larger
As the world's population increases, so too does its need for food and water-the two resources which are absolutely necessary to sustain life. Chinese experts warn that by 2030 when China''s population reaches 1.6 billion, per capita water resources will drop to 1760 cubic meters -- perilously close to 1700 cubic meters, the internationally recognized benchmark for water shortages. The China water crisis threatens the stability and prosperity not only in China but globally too. The government must adopt a new policy to reduce water consumption.
Dialogue (30 Minute Current Affairs Program) - China's economy strong but challenges remain
The momentum of China''s economic growth remains strong as the country rolls out policies to develop strategic emerging industries, accelerate the construction of low-income homes and encourage private investment. However, the country also faces resource and environmental constraints in the domestic market, as well as pressure to transform its economic growth pattern and create sustainable economic growth.
Dialogue (30 Minute Current Affairs Program) - Tougher IPR battles
The Wall Street Journal
China's Chery Will Build Cars in Brazil

JACAREI, Brazil—Chery Automobile Co., one of China's biggest auto makers, on Tuesday began construction of its first factory in Brazil in hopes of expanding its share in the world's fourth-largest auto market.
China to Dive for Buried Treasures

Submersible Is Set to Hunt for Valuable Minerals in Pacific

BEIJING—China plans an ultradeep dive by a manned submersible beneath the Pacific that would propel it past the U.S. in a race to explore potentially vast mineral resources in the deepest parts of the world's oceans.
Hong Kong Confronts Dire Housing for Poor

HONG KONG—A fire last month in a rundown tenement that left four people dead highlighted the challenge of providing affordable housing in this city of seven million—and turned up the pressure on the government to fix the problem.
See Kaixin's - China Real Estate
Caterpillar Loses Ground In China's Excavator Market

Caterpillar Inc. has slipped in a crucial part of the Chinese construction market.

The company, which has made sales of construction machinery in China a top priority, has lost market share to local rivals there over the past five years in one of the most important product categories, hydraulic excavators.
Baidu's New Browser Looks Strikingly Familiar

At last Baidu Browser is out and one glance at its slick, stripped-down interface makes it clear that company's designers are vastly more inspired by Google's approach to web surfing software than they are by Microsoft's.
With Baidu Free Music Deal, Can Record Labels Tempt Chinese Users to Pay Up?

Baidu's Mp3 search users may have already begun to notice that searches for certain songs in the catalogs of major record labels Universal, Sony and Warner are turning up files marked as zheng ban, or "licensed copy, which can be downloaded for free.
Tea With the Cast of 'Snow Flower and the Secret Fan'

Straddling early-19th-century China and modern Shanghai, Wayne Wang's "Snow Flower and the Secret Fan" tells the story of two sets of women that share a deep bond, a love, that is impermeable to men. Adapted from the bestselling 2005 Lisa See novel, ...
The New York Times
China's Biggest Search Engine, Known for Illegal Downloads, Makes Music Deal

Users of Baidu, China's dominant Internet search engine and long a haven for pirated music, will be able to download and stream songs legally.
China's Treasury Holdings Make U.S. Woes Its Own

By DAVID BARBOZA

SHANGHAI — However grim Washington's debt and deficit negotiations may seem to Americans, the impasse is nearly as disturbing for China.
Europe's Economic Powerhouse Drifts East

DITZINGEN, GERMANY — Germany has long sat at the center of the European economy, but Europe is no longer as central to Germany as it used to be.
I.H.T. Op-Ed Contributor
Counterpoint: Debunking Myths About China
By ERIC X. LI

SHANGHAI — On these pages on July 1, two prominent China watchers — David Shambaugh ("China's Communist Party at 90") and Minxin Pei ("Great party, but where's the Communism?") — analyzed the failures and challenges of the party as it faces a major leadership transition in 2012. Eric X. Li, a venture capitalist in Shanghai and a doctoral candidate at Fudan University's School of International Relations and Public Affairs, joins the debate.

The Chinese Communist Party has been running the largest country in the world for 62 years. How has it done?

See Kaixin's - A Color Revolution in China? Keep It Red - Eric Li
Chinese Opera Gets a Modern Edge

Efforts to save a 300-year-old art form include government investing in new productions of classic works.
Sharing the Wealth and Living Large in a Tiny Chinese Village

HUAXI, China — Huaxi is known as the socialist collective that works — where public ownership of the means of production has not just made everyone equal, but rich, too.
On the ground floor of New Village in the Sky, a Dubai-inspired skyscraper in the village of Huaxi, final touches are being put on a cavernous concert hall that can seat 1,600 people.
Endangered Dragon

A Lurking Liability
By DAVID BARBOZA

This is the first in a series of articles examining China's system of government-managed capitalism, and the potential weaknesses that could threaten the nation's remarkable economic growth.
Caixin Online
Global Economy on a Slow Summer Burn

By Andy Xie

Inflation in China, a debt crisis in Europe and joblessness in America are cooling the not-yet-recovered world economy

China's price struggle is just one of many signs of this summer's increasingly apparent global economic slowdown. The signs are obvious in the developed world. High unemployment and falling house prices are battering the United States, a sovereign debt crisis is spreading in the euro zone, and Japan is trying to recover from the earthquake-tsunami disaster.
Blue Waters, Black Oil in the South China Sea

China has so far chosen stability over conflict in the energy-rich sea it shares with several southern neighbors

No Asian country with territorial claims in the blue waters of the South China Sea – and claims to the black oil far beneath the waves – has installed a single oil drill in the heart of the disputed region.
Public Trust and Online Transparency

The latest Guo Meimei scandal was a testament to the growing role of the internet in mobilizing public opinion

Over the course of just two weeks, Guo Meimei was transformed from an entertainer on the fringe of the public consciousness to the focus of domestic and international media. With her skyrocketing fame, Guo Meimei has become the recipient of widespread criticism, even leading to a legal investigation into the financial situation surrounding her online-spawned scandal.
Five Chinese Cities Among Top 50 Most Expensive

Hong Kong, Beijing, Shanghai, Shenzhen and Guangzhou were among the top 50 most expensive cities in the world for expatriates, according to a recent survey

(Beijing) -- Five Chinese cities are listed among the top 50 cities worldwide with the highest living costs for expatriates, according to a survey published by consulting firm Mercer.
The Most Favored Go-Between
By Eu Li

Henry Kissinger's On China offers a rich examination of Sino-U.S. relations from 1971 onward

Ancient Chinese history and the Chinese concept of "face" in diplomacy are explored in Henry Kissinger's most recent book, "On China." While American readers may be interested in the former national security advisor's musings on Chinese diplomacy, Chinese readers will be keen to know the details of Kissinger's interactions with Chinese leaders, which cover a span of forty years. Starting with U.S. President Richard Nixon's first visit to China in 1971, his recollections include an intimate conversation between Nixon and Deng Xiaoping, where Deng turns the microphone off. The book also offers a rare glimpse into the friendship that was formed with former Premier Zhou Enlai.
Asia Times Online
China's pearls unstrung - for now
By Vivian Yang

China's "string of pearls" - port and airfield projects, diplomatic ties and force modernization from the South China Sea through the Strait of Malacca and on to the Persian Gulf - are more a Chinese dream (or the rest of the world's nightmare) than reality. All the same, China's increasing naval capabilities are leading to a dangerous security dilemma; the US should do whatever it can to keep the pearls a theory rather than provoke China into realizing them.
Another take on Libya hubris for China
By Peter Lee

If the West can't save Libya, it may at least cripple it. That's the subscript in the pretensions of a handful of countries to disregard sovereignty, circumvent the United Nations and ride cavalier over international law - all on display at the Libya Contact Group meeting in Turkey at the weekend. China is likely to take the lesson in nation-building, American-style, to heart.
INTERVIEW
Like daughter, like mother

In 2004, at the age of 36, Iris Chang shot herself to death, seven years after her novel The Rape of Nanking had become an international bestseller. Iris' mother Ying-Ying Chang recalls how she converted this tragedy into a positive force to write the recently released memoir The Woman Who Could Not Forget - a tribute to Iris' courage.
See Kaixin's - Nanking, Nanking



BOOK REVIEW
Pomp and porn during the Qing Dynasty
Decadence Mandchoue by Sir Edmund Trelawny Backhouse
Reviewed by Kent Ewing

In an erotic romp through the twilight years of the Qing Dynasty, these memoirs recount among other trysts the Victorian Orientalist author's subservient servicing of the Empress Dowager Cixi, then 69, and adventures with the eunuchs and catamites of Peking's bathhouses. Intermingled with fantastical imperial palace intrigue, the work has faced charges of fraudulence and obscenity; this belies its charm and historical significance.
THE ROVING EYE


An extreme traveler, Pepe's nose for news has taken him to all parts of the Pepe Escobar globe. He was in Afghanistan and interviewed the military leader of the anti-Taliban Northern Alliance, Ahmad Shah Masoud, a couple of weeks before his assassination


"The Real China is made by Chinese mothers and grandmothers, from each individual family's hard work," says Xue Xinran
Insights into China's
Society & Culture

China Themes
Insights into China's Society & Culture
Yuan Revaluation & Internationalisation
SEND AN EMAIL and tell a friend about Kaixin's Just the Headlines
Be Informed
Subscribe to 'The Lion Awakes'
NEWS FEED
& Receive a Daily Summary of the International News about China